by Lucas de Lima on Nov.18, 2010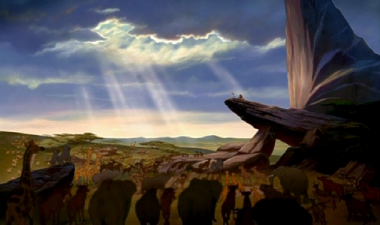 I think more poetry should be like the "Circle of Life" scene in The Lion King.
Let's dangle our bodies, or even better, the bodies of our children, over jutting rocks.
Through shamanic baboons (gay Earth mothers) and melodramatic light, let's court self-dissolution.
Why can't the "I" of the lion cub be so voluminous it explodes?
Your first ejaculation.
Corporal writing and its cheap thrills confuse species.  We threaten, if even just in flaccid poemland, the ideological expansion of private life when our poems fart like warthogs.
Fuck purely linguistic promiscuous play and the whitewashing neoliberal model of hybridity that props it up.  Turn, instead, to the circle of starving prey:  a "living moral referent," as Ariana Reines puts it.
When I was at Naropa, Bhanu Kapil said something like "excuse me if I mix up an animal and an immigrant."
When promiscuity intoxicates, disturbs, provokes.  What if piss, not mind/body dualism and the Enlightenment, provided our radiant stream.
"'You're going to get sick.'  When you say this, you want to lift him up and carry him out to some clean river to soak, watch the rings of filth float from his body.  But you also want to piss on him.  You imagine his face sprinkled with your vitamin-bright urine.  You want to unload on his beautiful black beard what you give to the urinal's mouth, a radiant stream splattering on his dim and tired lips." –Ronaldo Wilson, "The Black Object's Memory"
7 comments for this entry: