by Carina on Apr.04, 2013
I'm writing this from my desk in an office where I have spent the morning watching Al Jazeera videos and reading the New York Times and this is not entirely antithetical to what I'm supposed to be doing at my desk.
A few weeks ago I was getting ready to go to New Jersey for a visit home, which I've done more in the past six months than I ever have. There has been literal disaster after disaster. Anyway I was getting ready to go home. My uncle was posting North Korean propaganda videos on his Facebook page and I was watching them the way I read a really good poem – over and over again, trying to assess its balance of irony and sincerity.
The video is dubbed in English in a way that makes it feel like farce, except it's not. The script in English feels like it must have been written by a contemporary experimental poet with a solid sense of fun, like maybe Amy Lawless wrote it in a fit of black humor. I was just getting into My Dead when I watched the video for the first time and I was thinking about mourning and rituals and pre-emptive strikes, how one must convince oneself both of the seriousness of tragedy and its ephemeral nature in order to engage in the act of grief.
A few weeks later I was having brunch with my best friend and I think we were talking about Amy's book and I was reminded of a novel I'd read in college called Ways of Dying by Zakes Mda. The main character in the novel, which is set in South Africa, is a man named Toloki who is a Professional Mourner. The day I was having brunch was Easter Sunday and the day before we had gone to see a lecture and reading at the New Museum where Ariana Reines dressed up as Margery Kempe and talked about public grief.
The night before that I was trying to find a bar that didn't ID so I could take my little sister there and we ended up at a comedy show that was so abject it was a kind of public self-grieving and my friend and I talked about how the responsibilities of Poets, Comedians, and Lawyers are essentially the same – to be observant and self-aware and make public texts of our knowledge. The next morning we added Professional Mourners to that list.
Professional Grief is an epic responsibility requiring a great deal of strength and physical endurance – the endurance literally to cry for many hours or to stand in front of people and say something – in addition to a measured amount of weakness, pliability. There has to be something in the instrument that moves.
My whole entire life I have been aware of my place as an American Girl in relation to War. I used to read the Molly books and think about what I would do if I had to grow a Victory Garden in the backyard and kiss my uncles off to uniform. During Desert Storm I had an elementary school teacher who for some bizarre reason decided to tell my fifth grade class that the next step was hand-to-hand combat on American land so I immediately went home and collected a pillowcase full of rocks. When my grandmother, with whom I lived, asked what the f*ck I was doing with a pillowcase of rocks I calmly explained that they were for fighting terrorists when they invaded and pointed to the front page of the newspaper.
During the Arab spring I was living in the Midwest and writing poems & poems instead of collecting rocks. I wrote two books of poems one for America and one for Cairo and when I'd watch the news I'd read them aloud in my living room, and when Osama Bin Laden was killed and the students of Notre Dame started literal riots I watched them from the behind the glass back-porch doors of my graduate student housing as they barreled through campus chanting "USA."
The other night I went to see Amy read along with Sampson Starkweather and some others. Afterwards everyone went to a bar and at the very end of the night there were a few people left sitting in a darkened corner and we talked about poetry and the war. Living in wartime now is just living whereas it used to be a special occasion. The poets who read that night exercised their responsibilities to the epic in different ways, Sampson pouring his and every body he touched into a Homeric ode to the shit of  being alive, Amy aggrandizing the beauty of death.
I am being intentionally reductive here. In times of war it's important to show exactly what you're about because time could be running out and what if you forget to hug your people goodbye or what if your people never arrive. Like the Obama administration's press machine skirting the media and churning out innumerable Presidential Portraits, the "I" becomes an emblem you can wear like a pin.
I started writing something on Easter Sunday that I can't seem to stop and whenever my body is not moving I have to be writing it or I feel irresponsible to someone. Because I could never be a soldier the best I can do is write poems to survive my body and the bodies of my potential known-dead.
Often I am drinking coffee and falling in love with my waitress' accent. I ask her where she is from she says "The Aegean Sea" or "Another planet." Then I smile and put on clothes and write a poem about it all on a napkin or the underside of my forearm in a taxi and I haven't changed anything but I've looked into eyes. There's this really great HBO biopic called Hemmingway and Gellhorn about Ernest Hemmingway and Martha Gellhorn and they are in love during war and in one scene, Hemmingway locks Gellhorn in her bedroom to protect her from rape so she can stay alive to write about rape.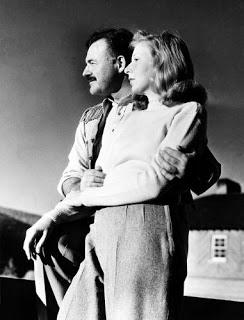 :amy lawless, ariana reines, ernest hemmingway, margery kempe, martha gellhorn, north korea, propaganda, sampson starkweather, the lyric I, war
No comments for this entry yet...